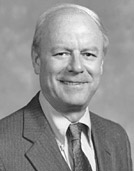 Innovation Briefs, now in their 22nd year of publication, are published by C. Kenneth Orski, a public policy consultant and former principal of the Urban Mobility Corporation.
Mr. Orski has worked professionally in the field of transportation for over 30 years. He served as Associate Administrator of the Urban Mass Transportation Administration under President Nixon and President Ford (1974-78), and prior to that was a senior officer in the United States Foreign Service with assignments to the European Communities in Brussels and the Organization for Economic Cooperation and Development (OECD) in Paris, where he directed a program of inter-governmental cooperation in transportation. From 1978 to 1981 he served as Vice President of the German Marshall Fund of the United States, a private foundation supporting transatlantic cooperation on issues of common concern to industrialized nations. Mr. Orski is a magna cum laude graduate of Harvard College and Harvard Law School.
During his 20-year consulting career, Mr. Orski counseled more than 30 state and local jurisdictions on issues relating to transportation planning, travel demand management, traffic mitigation, transit operations and deployment of intelligent transportation systems. For nearly ten of those years (1985-94) he also served as a technical adviser to the Federal Transit Administration on policies and program dealing with private sector involvement in urban transportation. In other transportation-related activities, he directed MIT's International Mobility Observatory, served on President George W. Bush's Transportation Policy Task Force and was a member of the Bush-Cheney transportation transition team.
While in federal service, he was awarded three Secretarial citations "for exceptional achievement and outstanding contributions to the development of federal transportation policy" and for his subsequent service as a departmental counselor he received the Department of Transportation's Outstanding Public Service Award "for providing exceptional leadership in improving transportation in the public and private sectors." A frequent contributor to professional journals and editorial pages of major newspapers, Mr. Orski has held leadership positions in numerous professional organizations, including the Urban Land Institute, the Institute of Transportation Engineers, the Transportation Research Board and ITS America. He is listed in Who's Who in America, Who's Who in Commerce and Industry and Who's Who in the World.

INNOVATION BRIEFS
10200 Riverwood Drive, Potomac, MD 20854-1536
tel: 301.299.1996; Fax: 301.299.4425; e-mail:
[email protected]